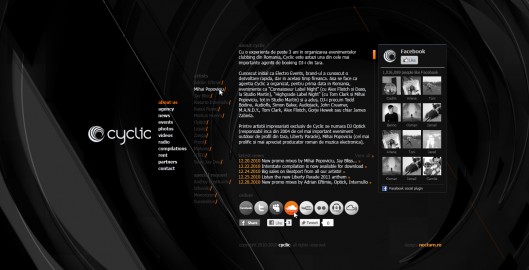 Website layout design, implementation and CMS (content management system) for Cyclic, the most important dj booking agency from Romania.
The concept was to have all the information needed in one page with no scroll. For example in the same page for an artist you will find his biography, his discography, a calendar with both future and past events outlined, the last 3 mixes uploaded on SoundCloud, photos, videos, a press kit, his technical rider, his logo and also links to all his online profiles and accounts. The background is an abstract interpretation of the agency logo.


Logo and stationery (letterhead, envelope, double sided business cards and email signature) designed for Bond Records, an electronic music records label.
Germany
Logo design for Zarganza, a label created for quality, taste, color, style and self expression of the woman to express.
Netherlands